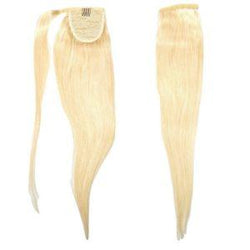 Uniquely Tamed Hair
Blonde Ponytail
Description:
Our features stunning length and voluminous body for a bombshell look that you are sure to adore. This ponytail is made with 100% synthetic hair with a relaxed straight texture and a drawstring attachment for an effortless look that is sure to impress. Available in fourteen gorgeous shades, the product will give you a sexy look in seconds.
The overall Blonde ponytail is biased to one side. In order to match your clothes, you can also tie a colored hair band. Perfect!
 The ponytail is tied behind your head. This will make your hair look longer and more attractive!
The ponytail can be tied in the middle, separated from the middle with a hair band, leaving a part of the hair tail in front.
Specification:
Hair Lengths: 20″ – 24″
Hair Color: Blonde
Hair Type: Ponytail
Hair Style: Straight
Weight: 20" 80 grams / 22" 90 grams / 24" 100 grams